Recent events (Ferguson protests, Napa earthquake) have once more illustrated the impact of social convergence on crisis communications. Still, many don't fully realize that the mobile and social phenomenon has forever changed how we must prepare for crises. Time is no longer a luxury ... a response must be immediate. Read this piece from my good friend Bill Boyd (@chiefb2) on the subject.
So, now, a scenario. An unlikely one (maybe) ... but certainly not impossible ... to go by recent news that would suggest Canada and the US are threatened by ISIS (the Middle Eastern terror group overrunning Iraq and Syria).
A group of terrorists ... or even a single suicide bomber ... walks into your town/city's shopping mall ... bad things start happening ... chaos ensues.
Let's look at the scenario through the lens of something I've talked about often in the past: the four imperatives of incident communications in the social convergence era:
alert your audiences using mobile devices and social networks

understand that your response will be scrutinized by the public/media in real-time

monitor social media during all phases of the crisis

engage/maintain a dialogue with your audiences
FIRST IMPERATIVE: ALERT
H hour:

... an explosion at the Mall of Malls ... huge blast ... many injuries ... possibly deaths ... reaction is immediate online ...why? because people have phones and share what they see ... case in point: a few seconds after a terrorist bomb explodes at an airport in Moscow:
And that's video .... posted on youtube ... it's even faster to upload a vine on Twitter (such as this one of the explosion at the Boston Marathon) ... or just upload a picture (same event). One can also live tweet events as they happen (either in Abbottabad in Pakistan during the raid that led to capture of Bin Laden or in Boston ... see below).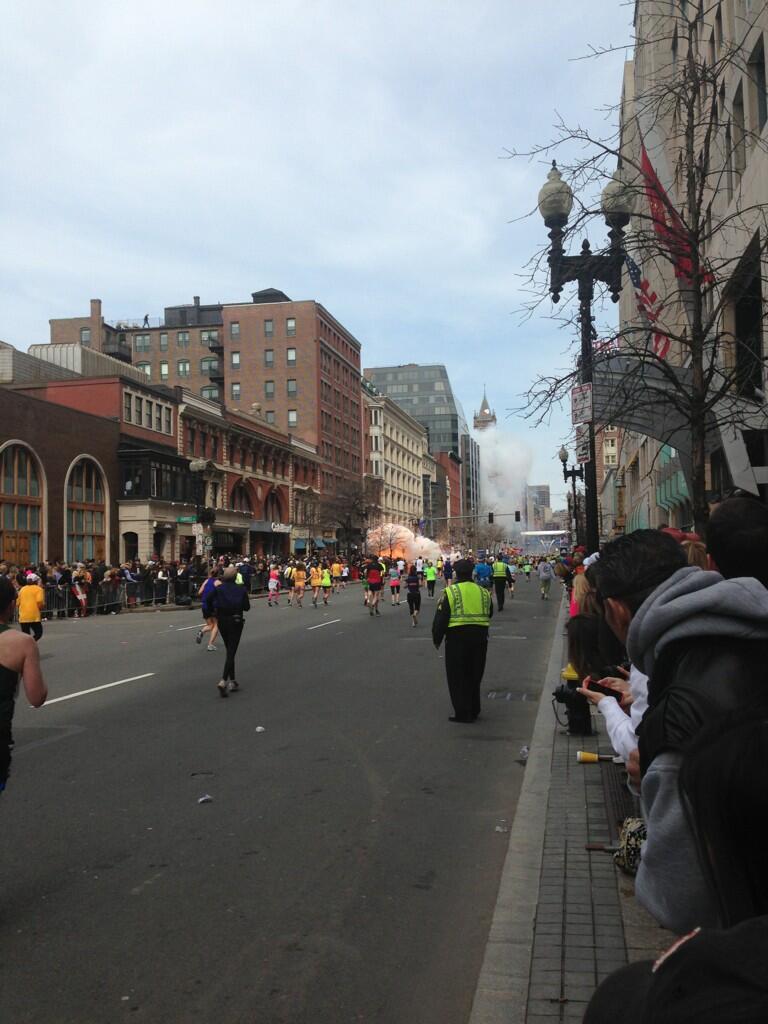 A tweet from Boston moments after the first explosion
H hour
+ no more than 5 minutes:
start using whatever mass notification platform you may have at your disposal(as long as it's accessible via mobile devices) .. or even your Twitter account to let people know you're aware of what's going on ... something like:
"WE ARE AWARE OF THE INCIDENT AT THE MALL OF MALLS AND ARE RESPONDING"
OR
"FIRST RESPONDERS ARE ON THE SCENE, MORE DETAILS TO FOLLOW"
AND/OR
ONGOING POLICE OPERATION, STAY AWAY FROM MALL OF MALLS AREA
A simple enough step that will buy you some time, show you're on the ball ... perhaps even draw more people to you as a trusted source of info. Here are the basics to be able to achieve that:
verify the info with relevant first responders/authority (don't fall victim of a hoax)

have a plan in place with some basic pre-written tweets

have the authority under the plan to issue them fast

have a twitter account !
This first step is really in the domain of the first responders or a municipal EOC. If you're in a state/provincial/national EOC, your first tweets are going to be a little more strategic (but they still need to be informative and relevant = quick after the fact):
H Hour + no more than 15 minutes
"WE'RE READY TO PROVIDE ASSISTANCE TO COLLEGEVILLE"
OR
"STATE AUTHORITIES ARE MONITORING THE SITUATION, READY TO ASSIST"
So, you let your audiences know what's going on ... as best as you can:
A good example above, here, from Howard County PD ... but it implies that the PIO will go on scene ... as if the main audience is still the media ... but is that right? You've got to talk to the reporters, of course,

but social convergence allow you to tell your own story, without intermediaries ... to become your own broadcasters. Multi-channels for multi-audiences ....
SECOND IMPERATIVE: REALIZE YOUR RESPONSE IS BEING SCRUTINIZED
Folks are attracted to unusual events ... flashing lights, equipment and personnel being rushed to the scene ... and guess what? They'll film it and send it out ... they might even live stream your response (think of the Ferguson protests ... and the pressures it put on police ...) Are you prepared for that? Is your staff trained to be under the spotlight? If they wear your uniform or your company logo, carry your badge or ID ... THEY ARE YOUR SPOKESPERSONS/REPRESENTATIVES ... to the media ... the public ...the world really.
Now, the crowd might even record and live tweet or live stream your tactical movements and even the moment you move in.
That's why, sometimes, police send out these kinds of messages:
Shooter near Pinehurst subdivision -
#
Codiac
#
RCMPNB
ask public to not give out information on police operation/location over social media.
THIRD IMPERATIVE: MONITOR SOCIAL NETWORKS IN REAL-TIME
It's simple really ... if the bad guys are doing it ... why aren't you?
You monitor social networks for 5 key reasons during an incident:
ensure your messaging is being acted upon

detect rumours/false info that could threaten public safety/health

isolate/route calls for help through right channels

identify reputational threats that could impede your ability to respond

gather additional situational awareness
Yes, people will call for help on SM ... they might even be encouraged to do so.
So listening, is an operational necessity.
A greatly improved tool to conduct instant monitoring when incidents occur is Geofeedia:
This ongoing social listening activity lasts as long as the incident does ...in all its phases.
One of the reason you should monitor SM during an incident goes back to the 2nd imperative: do you know what's being said/shared about your response ...is OP-SEC compromised ?
To find out ... you need to be listening !
FOURTH IMPERATIVE: KEEP THE DIALOGUE GOING
it's great to alert, respond and monitor ... but if all of a sudden you stop communicating, your audiences won't flock to you as a trusted source of info. Going dark is NEVER a good idea. You at least have to say WHY you can't reveal much.
"BPD successfully used Twitter to keep the public informed about the status of the investigation, to calm nerves and request assistance, to correct mistaken information reported by the press, and to ask for public restraint in the tweeting of information from police scanners," the report's introduction read.
A bit of a timeline here to illustrate the point:
from the first few moments:
Letting the people know what you're doing:
To the immediate aftermath:
A constant dialogue even allows you to put a "human dimension" to your response:
Engage the public ... send a call to action:
And you keep going until the incident concludes or is resolved: